Shtooka Recorder
Shtooka Recorder
is a program for Microsoft Windows which allows automated recording of the pronunciation of many words, expressions, and/or sentences from a list. (One can record an average of 500 words in 20 minutes). It can save audio files in the following formats: .wav .ogg .flac (including
Vorbis Comment
tag).
This program is distributed and licensed under the GNU General Public License (GPL).
There is now an equivalent of Shtooka Recorder for GNU/Linux. Please consult this page for more information.
Downloading and Installation
To get the latest version of Shtooka Recorder, please download and install the Kit Shtooka.
Screenshots:
List of words that will be recorded: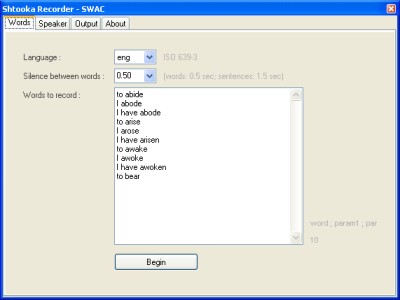 Information About the Speaker: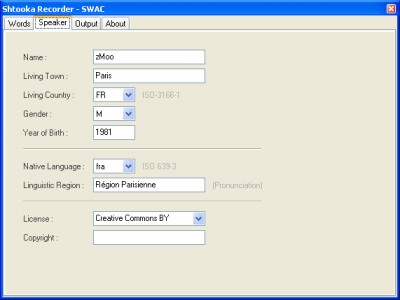 Output Properties: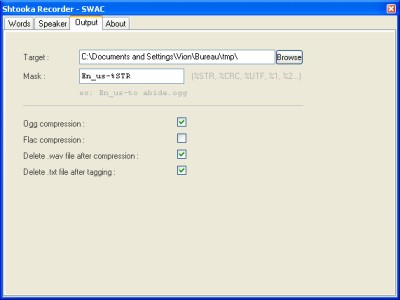 Audio Recording:
The user pronounces the first word, then Shtooka Recorder automatically switch to the next word while saving the file.
Vorbis Comment Tag: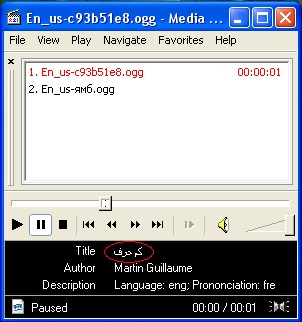 If your ANSI users codepage doesn't support characters used in your list, you can base the namefile on the CRC control sum or encode the filename in UTF-8.
The information about the word is properly stored in the Vorbis Comment tag. Then you can use Renaming programs to automatically rename the audio files using pieces of information contained in the Vorbis Comment Tag. (I've tried doing this with Tag&Rename 3.3 with Persian words, and it worked fine. Now, you can also use the Shtooka Explorer to rename your files)
What about Linux!?
We are currently working on a native linux version of our program. For the moment, you can use it with WINE, it works!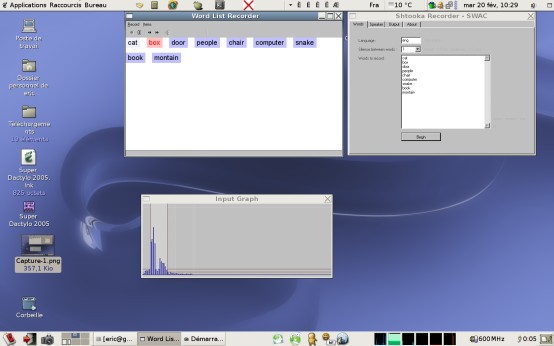 Contact :
You can send an email to:
Join us on irc channel #shtooka, network irc.freenode.net.